Theology, ministry
undergo change
at disaster site
By Pat McCaughan
Senior Correspondent
St. Paul's Episcopal Chapel at Ground Zero is the only place, says Mitties McDonald DeChamplain, "where you can get a meal, get your bones cracked and make Eucharist."
The chapel's reputation as the site of George Washington's inaugural address has been supplanted by its "radical availability" to rescue workers and its volunteers, many with Southland connections, in ongoing recovery efforts.
"The gifts of love that have been brought to that terrible and horrific setting are amazing," says DeChamplain, preaching professor at New York's General Theological Seminary and a priest associate at the chapel and at Trinity Church, Wall Street. "It is the signs of God's presence in all of those people, all of us together. It's created, as close as I've ever seen, a real true community of care and it's not because we sat down and planned it. It is the amazing thing that's just emerged," says DeChamplain.
"Podiatrists are in George Washington's pew. I am astonished at the loving care and devotion that surrounds that place of death, day and night, the incredible devotion of the firefighters and police and spotters and metal workers who operate those grapplers and machinery. My faith is renewed each time I go down there, by witnessing what they are doing and being able to stand with them, to offer what we can."
A former professor at Pasadena's Fuller Seminary, DeChamplain is among a number of Southland Episcopalians who answered the call to serve, either at the chapel or at a make-shift morgue.
Mary Haddad regularly dons the "proper equipment" before walking the perimeter at Ground Zero: hard hat, fumes mask and, most importantly, clergy collar.
"Pragmatically speaking, it gets you past a whole bunch of checkpoints that a buttoned-down shirt would not," says Haddad, priest associate for formation and worship at St. Bartholomew's Church in midtown Manhattan. There was a time when her collar seemed either an invitation for someone to ask for money or a source of confusion because it was worn by a woman. "'Excuse me, sister,' someone might say, or it was an object of indifference," she recalls.
Not now. At Ground Zero, her collar has become "an icon of an identity. Here, that identity is something highly good and valued, somewhat akin to the fireman's hat or the policeman's badge. I can't exactly put my finger on it, but it means something. But more importantly, it seems to signify a presence for which most people are so grateful," says Haddad. "There is a constant refrain of 'thanks,' simply for being there."
Haddad was there as the World Trade Towers became Ground Zero.
She remembers being extremely pleased about the day's prospects Sept. 11. Itinerary in hand, she arrived at 8.45am at Trinity Place, "right on time" to view Rowan Williams, the Archbishop of Wales, tape an address, "Shaping Holy Lives in the Contemporary World."
Two short blocks away from the World Trade Center, her eyes were drawn upward to a "strange and beautiful sight—a million pieces of silver and aluminum glistening against the intense blue sky as they fell—ticker tape? she wondered.
But just a short time later, the sky was obliterated by a rain of paper, debris and terrible confusion, followed by a sound "like a freight train running through your rooftop, the horrific sound of the earth breaking open from below." A sound that "surrounds you and seems to last forever, that reminded me of the 1994 Northridge earthquake, another time I thought I was going to die," she says.
Told to evacuate the building, the door opened into dead quiet and pitch dark. Stepping into a steady shower of falling residue and onto several inches of ash and debris, cement chunks, shoes, broken glass, she began to run. "There aren't words to describe ... what it's really like to walk and breathe through it as smoke burns and stings your eyes, face and lungs," says Haddad.
"The only impulse was to keep moving," she recalls. "I looked back and saw that monstrous moving cloud of smoke. Every step moved us further and further away from what is now known to
the world as "Ground Zero" and closer toward life."
Now, the world spotlight has shifted away from Ground Zero to the war on terrorism, and Haddad spends her "days off" being there, among the abundant life and recovery efforts at what is now a construction site.
"This amazing church has gone from being more like a museum to a living, breathing icon of incarnational ministry," Haddad says of St. Paul's.
Inside, a welcome sign announces: "Quiet Zone—rescue workers sleeping." Cards and drawings from schools and churches worldwide fill every available space. Tables offer sandwiches and sodas, lip balm and cough drops. Votive candles and flowers adorn makeshift altars. Gifts abound: an icon of St. Paul from a church in Africa, a red chasuble from Ecuador decorated with badges from rescue organizations throughout Canada and the United States.
A massage corner beckons the work-weary. Signs offer "free hugs administered here." Cots, pillows, blankets, and quilts fill most pews.
"Every day at noon, there is Eucharist," says Haddad. "One day with an hour's notice, I celebrated and preached, wearing borrowed vestments and Doc Martens on my feet. A handful of volunteers attend but at the back there are always pews filled with workers."

John Day, rector of St. George's, La Cañada, re-routed a canceled Kenya sabbatical from his Southland parish ministry, after flights were grounded. When he couldn't leave the country, he "felt pulled" to be at Ground Zero. It became a resurrection experience.
"Before this, the resurrection had been a theological construct for me," says Day, a former Vietnam combat medic and hospital emergency room worker. "But it became real. That was the sense of life in the midst of all of that death."
He pulled the graveyard shift from 11pm to 7am and, initially, it felt like hell.
"There are the sights and smells, bodies recovered, maybe a half torso, leg, scalp—nothing prepares you, it is just like nothing I have ever experienced before.
"Ground Zero changes every day, they haul so many tons of rubble out. Every day, I'd have to reorient myself to the site. It was dark and usually cold. One night, we were down in a pit, quite a way below ground. There was steam from broken pipes, smoke from fires smoldering, rising up through all this jagged twisted broken metal debris around us, and back-lit by construction lighting. I turned to the fire chief and said, 'This must be what hell looks like.' He said, 'If it isn't, it's close to it.'"
Day offered prayers before, during and after remains were recovered and taken to a temporary and later to a permanent morgue. Honor guards were usually present. He estimated that more than 2,000 recoveries have been made.
Eventually, he felt an overpowering sense, a subtle sense of God's presence.
"It became a very holy place for me, even the morgue. Even when you had the odor of putrefied human remains. The living made it holy, along with the dead.
"The construction workers were paid to be there, but this wasn't another job for them. When remains were discovered, everything shut down. They removed their hats, and climbed down from the heavy equipment. They stopped and paid their respects."
He believes the church has a real calling for the long-term emotional and spiritual care of rescue workers.
"I had to use all of my life resources to deal with it," he says. "I'd go back to St. Paul's, and get a massage or see the chiropractor. I'd tell them what was going on at the morgue. Centering prayer helped. For me personally to be able to relax on the table and have another human being just touch me in a soothing, loving way was very healing. You craved that gentle touch of another person."

Thoughts on visiting
a post-Sept. 11
New York City

by Mary June Nestler

Only two-dozen people were on my flight from Los Angeles to New York City in late October. The cloud cover that followed us across the continent parted in time for us to see with absolute clarity that lower Manhattan was not the same. The twin towers were gone. We disembarked upon landing and waited for our luggage with near religious silence.
"New York has lost its edge," my hairdresser would say two days later. "It's too quiet. Nobody yells at anybody any more. Business is lousy." When I told him I'd come to get my hair cut precisely to spend some money in New York to help its economy, he nearly kissed me. "Bless you! Bless you!"
Signs were everywhere that things had changed. The eastern half of 42nd Street near the United Nations was closed to traffic for security. It was odd to stroll along its median to reach my hotel. "What room would you like?" said the clerk when I checked in. "And on what floor? We're less than a third full."
I had been wrestling with myself about going to Ground Zero during my visit. Watching television later in my hotel room settled the debate. The newscasters urged people to stay away. Thousands were making their way to the newly expanded perimeters of the World Trade Center site. Some were holy on-lookers, mourners, family members of those entombed. Others were the merely curious.
While I would have liked to have paid my respects to the dead and given my prayerful support to those working, it seemed better to do that from uptown.
I arrived at my meeting the next morning in the Episcopal Church's national headquarters on Second Avenue and spent a few moments in the chapel before going upstairs. On my way I stopped at a table near the door. On it lay several white three-ring binders, five inches thick, full of posters with pictures of those still missing. I turned page after page and mourned the dead.
The meeting began with an attempt at humor. "Welcome," the convener said, "to the only city in the world with designer hazmat suits." The anthrax scare had just that week touched the city. New Yorkers at the meetings laughed; we folk from other places around the country didn't know what protocol to observe and squirmed in our seats. It's one thing to arrive at humor having endured terror (two people at the meeting had been a block away from the towers' fall). It's another thing entirely to laugh in the midst of someone else's immediate and continuing distress.
The next day brought two privileges. I had lunch with the brother of a New York City firefighter, Geoffrey Guja, who died in the collapse of the second tower. The firefighter's cousin, the Rev. Dr. Edmund "Ted" Fisher, is a member of our Episcopal Theological School at Claremont faculty, and a memorial scholarship fund has been established in his name at our school. Geoffrey's brother spoke eloquently about his funeral at the Episcopal church in Massapequa, attended by thousands. I was moved to hear him express his concern for the families of many of the workers killed at the towers, families who might be afraid to access the emergency services because of their undocumented status.
I decided to walk downtown to my evening appointment at the General Theological Seminary. I passed Madison Square Garden, swarming with thousands of people on the surrounding streets. I thought a sporting event must be about to start, but a closer look revealed the city's second large job fair. These thousands had lost their jobs in the aftermath of Sept. 11. They clutched resumes in their hands, not playbills.
At GTS I talked with students and faculty about the seminary's ministry to the city in the weeks following September 11th. Members of the GTS community were still working 12-hour shifts at the Seamen's Church Institute, where services for rescuers had been set up and staffed mainly by Episcopalians. The seminary's close, a quiet oasis of green, and its chapel had been opened wide to New Yorkers, who sought places of refuge and counsel in the weeks after the attacks.
I had dinner with two of the seminarians from Los Angeles, both new this semester to New York. Neither could possibly have anticipated the depth of education for ministry New York City would provide this fall. We spoke of the ways their studies had been brought into sudden, radical focus by the death and destruction two miles south.
I wondered what I would have done if I were a priest in Manhattan. The clergy who serve there are bone-tired. How will the wider church minister to them, and thank them for their pastoring? Thank you, members of the National Church staff and clergy and people of the dioceses in and around New York City, for seeking and serving Christ in all persons, and for loving your neighbors as yourselves.

The Very Rev. Canon Mary June Nestler is dean of the Episcopal Theological School at Claremont, CA, and scholar-in-residence at St. James' Church, Wilshire, Los Angeles.

School vs. military chaplain: A study in conflict?

By Pat McCaughan

Explaining the war in Afghanistan to students at St. Margaret's School in San Juan Capistrano gets personal for assistant chaplain Dan Leatherman, a priest and an officer.
"A sixth grader was in tears one day after chapel. She said, 'I don't want you to go to war,'" recalls Leatherman, 31, an Air National Guard Reserve captain who has been recalled to active duty in May. "I responded, 'I don't want to go to war either."
"As a priest and an officer, we live in this ambiguous state because we train to blow up things and kill people, although we resist using violence. The rules of war state that we must use the minimum amount of force necessary to achieve our objective.
"How do I reconcile that as a chaplain? How do I minister to people whose mission is to inflict as much damage as possible upon the enemy? It's nothing I resolve or justify completely. Experience tells me that the soldier's prayer is always one of peace. No soldier ever really wants to go to war. No one wins in a war, everyone loses.
"I focus on individuals. I deal with their pain. Pain is universal. In the midst of chaos, as a military chaplain, I become a visible reminder of the holy, and not just for Episcopalians or Christians. We commit to serve the religious and spiritual needs of all soldiers, Buddhist, Muslim, Jewish, any faith."
Although his father was career Army, Leatherman had no such aspirations until an undergraduate ROTC stint at the University of Hawaii sparked interest in military chaplaincy.
After graduating from the Seminary of the Southwest in Austin, Texas, and while serving an Oklahoma parish, he became a military chaplain. He transferred to March Air Reserve Base in Riverside County's Moreno Valley when he moved to California in 1999.
There, he serves one weekend a month and two weeks a year. Active duty means that, from May 1 through Aug. 31, he will take a leave of absence from St. Margaret's and serve on base, including ministering to families of soldiers already deployed to Afghanistan and elsewhere.
"Life continues regardless of war," says Leatherman, who doesn't expect his stint on base to be disruptive. Charmaine Chong, his wife of five years, is a graduate student in teaching at Cal State San Marcos.
The chances of his being sent to Afghanistan are remote, but "anything is possible, including a change in orders. One would hope the war would be over. One of my private prayers is that I pray myself out of a job."
His other prayers are for God's kingdom to come, for justice and peace to reign and even for Osama bin Laden. "It is imperative that we pray for our enemies. Christ calls us to be transformative. We pray God will give him a heart of repentance, to turn himself in. At the same time, should he turn himself in, our prayers would be that his captors not abuse their power.
"And we pray during this wartime that our military members will be safe, and wise when making life and death decisions every day."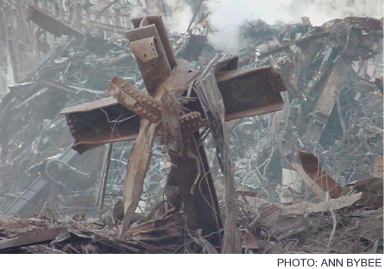 Girder-cross unearthed on east side of destruction site.
Assignment Journal, Oct. 31, 2001
Deployment to WTC, NYC
Oct. 31, 2001

By Wendell Young

I felt anxiety as I waded my way through the airport security lines at LAX to board my flight to New York City. A little more than two weeks had passed since I watched in horror as CNN televised the collision of the second plane with the south tower of the World Trade Center. Since that fatal morning of Sept. 11, that little voice in the back of my head kept reminding me that we are at war, and the world as we knew it would never be the same again. My emotions ran a kaleidoscope of anger at the terrorists, sorrow for the families of those who were killed, and fear of how this upcoming experience would internally change me.

I had received the call from the U.S. Public Health Service to deploy and provide communications assistance to the medical, veterinarian and mortuary teams at the site. I had joined a federal disaster medical assistance team in Santa Ana about five years ago that consists of medical, police and communications specialists. Since its formation, the team has been deployed to Florida and Hawaii to assist because of hurricanes, to North Dakota because of floods, to Northridge because of the earthquake, and to provide pre-positioned medical response teams for the Olympics and the Democratic and Republican national conventions. The USPHS mission had changed over the past two years, and our team had been preparing for potential terrorist attacks from nuclear, biological and chemical weapons. Little of this could prepare me for the devastation in New York.

After a day of travel I arrived at La Guardia around midnight. I spent most of the night tossing and turning in my hotel room, fighting the time difference and the anticipation of what the morning would bring. The morning started at 7am, and I spent the next four hours processing the paperwork and obtaining my IDs from the USPHS and FEMA. I was assigned to the 7pm – 8am shift, told to get some rest, and to report ready for duty that evening. I got an hour's nap before I reported back in.

I visited "the Pit" (aka Ground Zero) that evening to facilitate moving the command tent from the community college site to the new location on Liberty Street. Our headquarters and lodging was around Times Square, and the trip to the site involved passing a series of checkpoints and a circuitous route. We arrived on the southwest edge of the World Trade Center complex in darkness, where the area was artificially lit by huge generators and lights. The lights, smoke, dust, acrid smell and the drone of construction equipment combined to provide a very eerie, surreal effect.

The photos in the papers and on television could not come close to the horrendous vision that was before me. What is difficult to describe in words or photos is the immense area of damage. The 16-acre World Trade Center complex consisted of seven buildings, five of which collapsed and the other two consisted of burnt-out shells. The damage inflicted on the nearby building spread out to another 48 acres, much of which extended up to the 30th floor.

The families and friends of the flight attendants who died that day had set up a makeshift memorial wall about two blocks from the site. It was an impressive collection of flowers, teddy bears and cards. I made the mistake of stopping to read one of the cards one day and found myself in tears. Behind the memorial was a small park with trees that were covered in dust, paper, and debris that had infused itself into the branches and surrounded the bases of the trunks. My subconscious told me that the gray/white vision before me should have been green/brown, and that I would carry this haunting image with me for the rest of my life.

The days blurred as I averaged only a few hours of sleep per day during the first week. I think on my first day I went 26 hours without sleep. I finally managed to get six hours of sleep per day on my second week. Although fatigue had set in, what kept me and many of my co-workers going were the crowds of New Yorkers who had gathered along the West Highway to cheer us on as we entered and exited the site. They gathered at all hours of the day, sometimes as many as a hundred for a month after the event, waving flags and signs.

I kept looking for signs from God to help me cope with my experience. He provided several crosses of steel girders that were buried among the debris as signs for the construction and rescue workers. On my second week there, Ann Bybee of the California Emergency Medical Services Agency shared a photograph she had taken of a girder-cross that was unearthed on the east side of the site. I e-mailed the photo to Susan Russell, and it was forwarded to many of the congregation members as well as posted on the St. Peter's (San Pedro) Web site.

There was the miracle of the cat that survived for three weeks in a nearby brownstone apartment, which was damaged and badly burned. The cat was eventually found by rescue workers and reunited with her owners who had given up hope of finding her alive. My biggest miracle was the news that a co-worker's brother, who worked in the World Trade Center and missing for two weeks, was found alive in a hospital. It is important to remember that when a tragedy of this magnitude occurs, there remains the message of hope and healing amid the damage and destruction.

I was happy to return to Los Angeles, after spending 16 days in New York. The experience has changed my life forever. It has taught me to be thankful for what God has blessed me with. It has reminded me that life is too short, and that I need to focus on the important things, such as my family and friends. Some of my friends have implied that I am a hero for going to New York. I don't think of myself as such. I was called by God to help in what I've been trained to do.

Wendell Young is a parishioner at St. Peter's Church, San Pedro. CA.